Between the rise of mobile technologies and the comfort-loving millennial generation, offices are borrowing more and more elements from home interior design, as well as innovations that change the way we look at a regular open-space. Let us advise you how to apply the latest office-furnishing trends in your own office.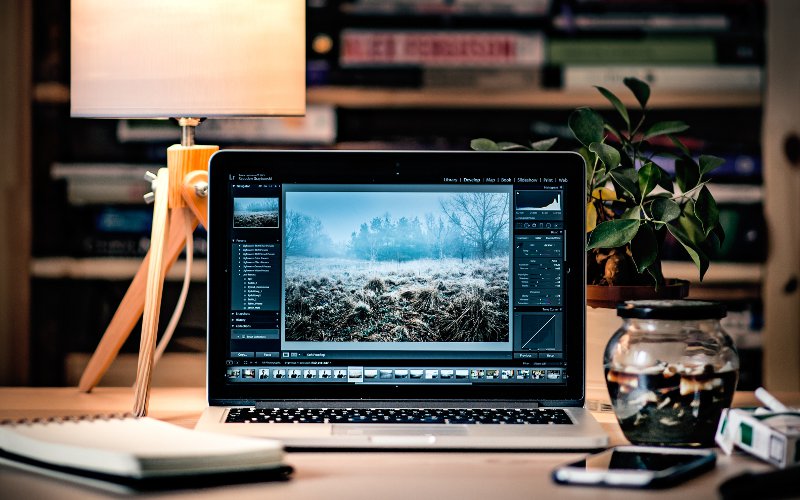 Home atmosphere
Modern offices focus mainly on comfort. The main ingredient is so-called 'feel-good' furniture which creates an ideal environment for better performance. The demand for this new trend is met not only by the makers of office furniture but also by companies that focus primarily on living rooms, kitchens or bedrooms. There is a lot to choose from, so don't be afraid to use elements typical for private residences, such as soft living room sofas, carpets, wallpapers, chaise lounge long chairs or wing chairs.
Work is a game
The trend of gamification has found its way into the office world – work interiors are designed with elements that encourage creative thinking and playfulness. Use happy and cheerful colors, large-size canvas prints for your walls and various interactive elements, such as interactive touch screens or table football. A playful feeling can also be added by using various different textures and structures. For example, combining mesh chairs with soft geometric patterns on the carpet or wallpaper.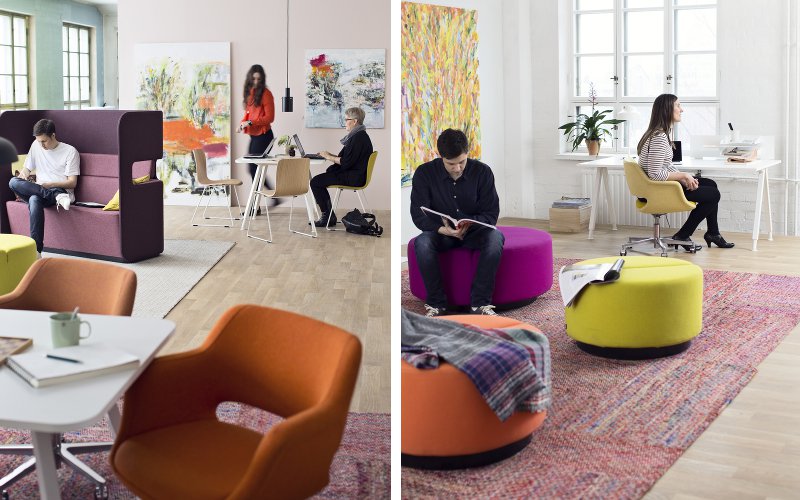 Coffee and table to go
Work relations are becoming increasingly more flexible and offices are trying to reflect this trend by choosing furniture that makes them highly adjustable. This allows you to easily change your private working space into an open zone great for brainstorming. 'Takeaway' furniture is a popular replacement for static office elements. Other popular choices include tables on wheels, poufs, extension tables and modular furniture that can be quickly rearranged in dozens of different ways.
Practical screens
Open-plan workplaces with smaller static workspaces are out of style. There are much better choices for dividing an open-space office. For example mobile dividers, such as sliding glass walls, curtains on rails or movable screens that can visually divide the workspace and often also absorb noise.
Focus on nature
Many companies are adopting an environmental approach, which they carry over to the design of their office. Furniture made from natural wood is often used in combination with natural patterns on textiles and upholstery. When it comes to flooring, linoleum is making a return. It's not only easily affordable and sturdy, but also a mixture of mixture of linseed oil, crushed cork, wood, resin, and limestone, which makes it one of the most environment-friendly flooring materials available. Of course, flowers and plants are a must-have for every office.
A good space to stand
At first glance, it may seem like a crazy idea, but for people with a sedentary job, being able to occasionally work while standing is a great health benefit. In a time when ergonomic seating and comfort while working with a computer are widely-discussed topics, practical stand-by tables are becoming more and more popular.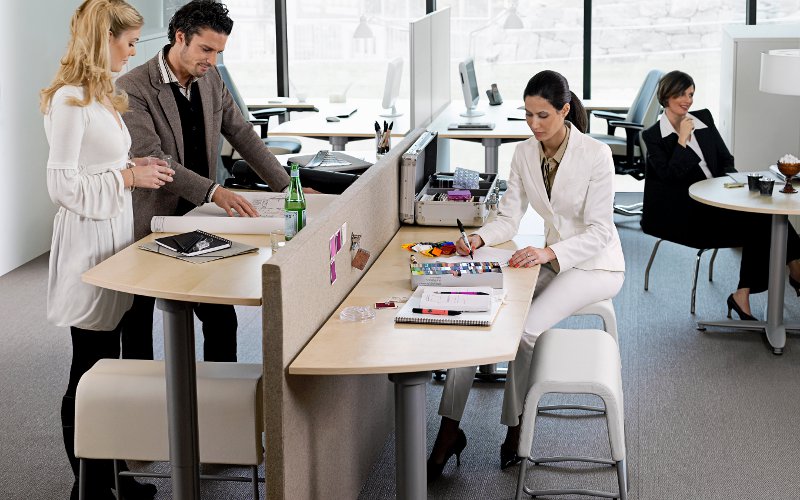 The importance of light
Light conditions have a great effect on mood and productivity in a workspace. The main ingredient is enough natural light because its absence makes people depressed and sleepy. If you opt for artificial light, instead of ceiling light bulbs choose lights that will illuminate the workspace directly or at least its immediate surroundings. The rest of the room will do fine with softer lighting, such as standing lamps or shaded chandeliers.